Hamid Karzai's Former Taliban Connections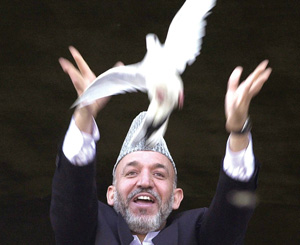 The wrath of the right wing will surely come down on me for this post!! But... in doing some biographical reading on the life of Afghanistani President, Hamid Karzai, I was not aware of his early and former relationship with the Talibam. To make myself perfectly clear - I want to stress the following two points:
1)I fully acknowledge that whatever relationship he had with the Taliban years ago is now COMPLETELY SEVERED. They killed his father and he hates them!
2) I am not trying to detract from the international stature of Mr. Karzai by posting this material, I simply want to demonstrate (as I have done before) that the situation in Afghanistan is MORE COMPLEX THAN YOU CAN IMAGINE.
Hamid Karzai
In 1979, while Karzai was a student in India, the Soviet Union invaded Afghanistan. Karzai's family fled to Quetta, Pakistan; where he gave financial support and worked as a key planner and strategist, helping to route supplies to the anti-Soviet Islamic guerrillas. When the Soviet troops withdrew from Afghanistan in 1989, Karzai returned to his homeland. Karzai served for a time in the cabinet under Afghan president Burhanuddin Rabbani. In 1996, the Taliban took control of his country. Karzai briefly aligned himself with the Taliban, but as a moderate Muslim and advocate of women's rights, he soon joined his father and younger brother in opposition to the Taliban. Karzai became leader of the Popalzai, a clan of about 500,000 members in 1999 when his father was assassinated by people Karzai believed to be Taliban agents. The following year, Karzai testified before the Foreign Relations Committee of the United States Senate on the urgent need to replace the Taliban. In 2001, following the September 11 terrorist attack, Karzai worked with the United States to overthrow the Taliban in Afghanistan and muster support for a new government. Karzai helped negotiate the Taliban's surrender of Kandahar, its last remaining stronghold, in December, 2001. On December 22, Karzai was sworn in as interim prime minister of Afghanistan.
Answers.com
http://www.answers.com/topic/hamid-karzai
Hamid Karzai Biographical Data

When the Taliban emerged onto the political scene in the 1990s, Karzai was initially among their supporters. However, he later broke with the Taliban, citing distrust of their links to Pakistan. After the Taliban drove Rabbani out of Kabul in 1996, Karzai refused to serve as their U.N. ambassador. In 1997, Karzai joined many of his family members in the United States, from where he worked to reinstate Zahir Shah. His father was assassinated, presumably by Taliban agents, July 14, 1999, and Karzai swore revenge against the Taliban by working to help overthrow them.
From Wikipedia
http://en.wikipedia.org/wiki/Hamid_Karzai
Hamid Karzai Biography

During the Soviet invasion of Afghanistan in the 1980s, the Western-educated Hamid Karzai served the resistance as an advisor and diplomat, winning the loyalty of the Mujahideen, or "holy warriors," who finally expelled the Soviets from Afghanistan. Karzai was deputy foreign minister in the postwar government from 1992 to 1994, but the country was soon rent by civil war as local warlords competed for power. The Taliban movement sought Karzai's support in restoring order, and offered him the post of United Nations ambassador, but he broke with the new regime when it fell under the influence of foreign terrorists.

From a base in Pakistan, Karzai began to organize anti-Taliban opposition. When his father was murdered in Pakistan, presumably by agents of the Taliban, Hamid Karzai, was selected to succeed his father as Khan of the half-million Popalzai. He immediately defied both the Pakistan and Taliban governments by leading a convoy of tribal mourners to carry his father's body home for burial in Kandahar, a stronghold of the Taliban. The Taliban did not dare intervene. This act of defiance made Hamid Karzai the most visible leader of resistance to the Taliban among the Pashtun people.

In October 2001, Karzai and three friends re-entered Afghanistan to raise a revolt. He had a single satellite phone, no sleeping bags or other supplies, little ammunition, few weapons, and no certainty of outside support, but day by day he attracted more followers. He narrowly escaped capture by the Taliban, and was even wounded by a stray American bomb, but by December, the Taliban had fled from Kandahar.
Academy of Achievement
http://www.achievement.org/autodoc/page/kar0bio-1
Hamid Karzai Bio

Hamid Karzai was born on December 24, 1957 in Karz, Kandahar.
His father Abdul Ahad Karzai was a political leader and Deputy Speaker of the Afghan Parliament.
In 1979, however, while Karzai was a student in India, the Soviet Union invaded Afghanistan and his family fled to Quetta, Pakistan.

Karzai joined the resistance and when the Soviets withdrew from Afghanistan in 1989, Karzai returned and served for a time in the cabinet under Afghan president Burhanuddin Rabbani.
In 1992 he became the Deputy Foreign Minister of Afghanistan, but he left Kabul in 1994 for Kandahar, after factional fighting intensified.

Growing disenchanted with the corruption of the mujahideen he aligned himself with the Taliban but Karzai fell out with them in the mid 1990s as their extremism became more evident. This schism escalated when in 1999 his father was assassinated. Karzai blamed the Taleban, and rallied support against them from around the world. The attacks of September 11, 2001 proved a catalyst to international action.

Karzai helped negotiate the Taleban's surrender of Kandahar, its last remaining stronghold, at the end of 2001. Karzai became interim prime minister of Afghanistan. A special session of Afghan representatives voted to appoint Karzai transitional head of state until the country held its first-ever general elections.

In December, 2004 Hamid Karzai was sworn in as Afghanistan's first popularly elected president. At his inauguration he called for help from the international community to bolster Afghanistan's young democracy in its battle against the threats of terrorism and drugs.

Amongst those in attendance were US Vice President Dick Cheney and Secretary of Defense Donald Rumsfeld.
Biogs.com
http://www.biogs.com/famous/karzai.html